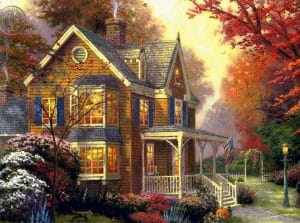 Though the artist passed away in 2012, Thomas Kinkade paintings are still incredibly popular. He painted over 1000 paintings in his lifetime. So, it should be no surprise that it is estimated that Thomas Kinkade paintings hang in 1 out of every 20 households in the United States.
Thomas knew he was an artist from a young age. He used money earned from his paper route and the sales of his paintings to buy art supplies. He also renovated his childhood bedroom to include an artist's loft. Thomas Kinkade apprenticed with artist Glenn Wessels, who had built his studio just 100 feet from Thomas' childhood home.
It is well-known that Thomas Kinkade was a Christian and credits God as inspiration for many of his works. He is known by the nickname "The Painter of Light" because of the light that seems to emanate from his paintings. The light in his works represents the light of Jesus. Thomas has said, "With whatever talent and resources I have, I'm trying to bring light to penetrate the darkness many people feel."
Two years after his death, the life of Thomas Kinkade, an account of his life was written, "Billion Dollar Painter: The Triumph and Tragedy of Thomas Kinkade, Painter of Light", detailing the dramatic rise and fall of his life.
List of Thomas Kinkade Paintings
The list below may contain affiliate links. We will earn a small commission at no extra cost to you if you purchase items through our links.
| wdt_ID | Image | Title | Painted | Published | Style | Classification | Subject Location | Genres | Collection | Buy |
| --- | --- | --- | --- | --- | --- | --- | --- | --- | --- | --- |
Thomas Kinkade Quotes
I view art as an inspirational tool.

Everyone can identify with a fragrant garden, with beauty of sunset, with the quiet of nature, with a warm and cozy cottage.

Balance, peace, and joy are the fruit of a successful life. It starts with recognizing your talents and finding ways to serve others by using them.

I remember my mom had a big collection of copies of Saturday Evening Post magazines, and that was really my introduction to those great illustrators.
Tags: Thomas Kinkade Paintings, Thomas Kinkade artwork, Painter of Light, List of Thomas Kinkade Paintings